Carpets are notorious for accumulating everyday bacteria and allergens, particularly within busy homes, especially if you have little ones or pets! You'd be amazed at how quickly dirt can accumulate.
Here at Green Clean Carpet Cleaning, we are experts when it comes to initiating a green, dry chemical free residential carpet cleaning service that will allow you to reap the benefits of a toxic free environment, without compromising on cleaning quality or performance.
Unlike many other residential carpet-cleaning providers, we champion a non-toxic approach to cleaning. This means that rather than using harmful chemicals to remove hazardous bacteria and allergens from your home, we bring together our green and dry cleaning process, which uses natural cleaners, and advanced deep cleaning and purifying equipment in ordered to optimise results. And, because we understand that your home is often a busy environment, the nature of our dry clean process means that your carpets will be ready to be used again in as little as 1 hour.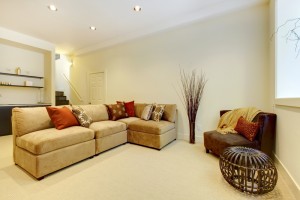 We are committed to providing a world-class green cleaning service that will open your door to a happier and healthier green indoor environment. With the right people on our side, and armed with the very latest, sophisticated technology, we go above and beyond to ensure that your home is always left spotless and of course, sparkling clean.
We offer the following residential cleaning services:
Our green cleaning approach is simple. We use oxygen powered cleaning solutions that are able to tackle and remove stubborn stains and odours at the source of the problem, without the use of excessive water. Our biodegradable products are also able to encapsulate both dirt and moisture, whilst our HEPA filters are equipped to remove 99.97% of dirt and harmful bacteria from your carpet.
What you can expect from our residential cleaning service?
We pride ourselves on delivering the highest standard of customer service – we wouldn't have established a reputation as leaders in our field without going above and beyond to ensure that your needs and expectations are always met and exceeded.
What sets us apart?
We are proud of the people we work with. All of our green carpet-cleaningtechnicians are professional, courteous and knowledgeable.
We are punctual and reliable – this means that all of our green carpet cleaners will arrive at your home in plenty of time, with the right products and equipment to get the job done.
We also carry out a thorough assessment prior to starting any work, this allows us to assess the scale and scope of the work involved, and of course create a tailor-made cleaning plan, which focuses on stubborn carpet stains, odours and other problem areas.
We always strive to manage your expectations when it comes to completion times, and of course, we will always aim to complete all work as quickly as possible without compromising on quality.  With this in mind, our domestic carpet cleaning process generally takes 1-2 hours to clean a 2-3 bedroom home.
The process – what you can expect
We will start by thoroughly vacuuming your space with our high performance HEPA filter machine.
We will then implement our pre-cleaning and stain removal process with an oxygen-based booster.
Next we will complete a thorough deep cleaning and pile lifting process courtesy of our biodegradable cleaning products alongside our counter rotating brush cleaners.
We will then go over the surface with our triple filtration system vacuum cleaner.
Now it's time to check if you are 100% happy with the work carried out. If you're not, simply let us know and we will rectify any issues there and then.
Oh and we will also leave you with two bottles of stain and odour remover along with a factsheet and tips on looking after your surface.
To find out more about our green residential cleaning service, please do not hesitate to get in touch.